Hey there, my lovelies!
I got tagged for this amazing Award by Brianna @ Brianna's Books And Randomness and Emma @ A Few Chapters 'til Love! As always this was a while ago and as usually I only got to it now. *lol* Anyway! What I want to say is the following: For some reason I love the idea of this Award, I mean "The Smaugette Award"! What a nice name! And then look at the awesome Smaug picture! How cool is that? XD This is definitely one of the coolest Awards I ever came across and Beck did an amazing job! 😉 
This said I want to thank Brianna and Emma for thinking of me when they did this Award! They are both amazing (and super lovely) bloggers and if you don't know their blogs already you should follow their links! Now. I mean it! ;-P Okay, let's do this!
A Smaugette is… I don't even know. I just came up with it randomly like eight months ago and I don't know why I did? I just did. Anyway, this tag is for people who are generally amazing. And that's all of y'all.
RuLeS:
Tag the creator (meeeeeeeeeeeeeeeee!)
Make sure you have the rules and smaugette definition in your post!
Tag 10 fantastic friends you believe are worthy of this prEsTigIoUs AwArD
Answer the questions I have!
Make sure you put the award in the post so people can bask in its fabulousness
Give them a new thing to try (if they want) and (if you want) try the one I've given you!
What I was Supposed to Try:
"Write about something, anything, for at least ten minutes a day for a week. After the weeks ends, choose the piece of writing you're proudest of and share it in a blog post. It can be anything, from a single sentence to the start of a novel, anything you want. Get out of your comfort zone a little bit and be creative!"
This prompt made me super creative and I even came up with a plotline for a book. Maybe I'll write the beginning of it as a blog post. Right now my creativity is flowing so everything is possible.
What I want You to Try:
I'm such a sucker for poetry and have been writing poems for years. So I'd like you to try to write a poem. It can be short or long or some sort of rap. Whatever floats your boat! You decide how you want to go about it. 😉 And who knows, maybe you'll even have some fun?
1. What is a random hill you would die on?
(If you don't know what this means, it's basically something totally random that you would fight for.) BTS are a family and they don't fake their friendship for their fans! You can't fake a friendship like that! Their closeness and their familiar friendship is real!!! Period! Fight me!
2. What are you being for Halloween?
Well, Halloween is still a long time away but I love to dress up so just let me think about it for a second. XD I think I'd like to go as a book character. The only question is as whom? Maybe a shadowhunter? That would be fun. Or a faerie?! (I'd love to dress up as Cardan hahaha) Mhmm… I'll give that some thought and you'll know when it's Halloween! *lol* ;-P
3. Tell us about your favorite article of clothing and maybe(??) include a picture?
My favourite article of clothing… Mhmmm… I think that would be my BTS Hoodie. Let me see if I can find a picture of me wearing it.  There you go!
4. What's your favorite Thanos quote? Palpatine quote? Any quote?
"I know what it's like to lose. To feel so desperately that you're right, yet to fail nonetheless." – Thanos
I really hated what Thanos did, but at the same time I had some grudging respect for him and his view of the world. His character was so morally grey and super well done. I couldn't hate him but I really, really desperately wanted to. 😉
5. Who or what inspires you?
What a loaded question! Well, prepare for a long answer. What inspires me? My family, my friends, BTS, nature, life with all it's ups and downs. The good and the bad times, the quiet and the loud seconds of my days, my darkest moments as well as my brightest, life in general. Every experience I make, every breath I take, every second I live and feel and hope and dream! ❤ Life is beautiful, you just have to accept it with all it's good and bad sides. 
Umm… so in short: Our world and the people in it inspire me and will do so until I take my final breath. 😉
6. What are your top five favorite memes?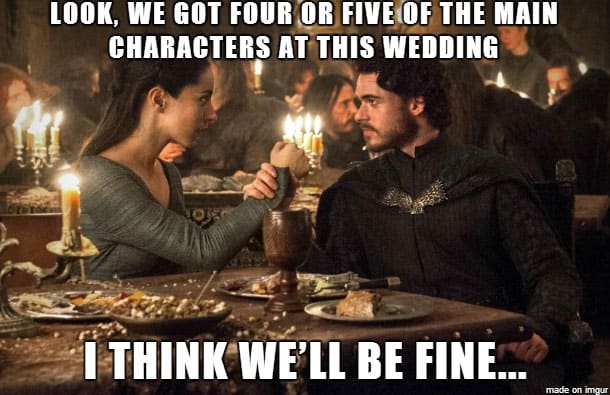 7. Who is your favorite fictional dragon, (besides Smaug of course)?
I really don't know all too many dragons but I think I might go with Incendiu, the dragon from Melika Dannese Hick's "Deadmarsh Fey". He was kickass! 😀
8. Top five favorite books right now?
I'm really glad that it says "top five favorite books right now" *lol* because that way I can just go with the flow without overthinking my answer. ;-P Those are all books I read recently btw.
If This Gets Out by Sophie Gonzales (I had the privilege to read it as an ARC)
The Queen of Nothing by Holly Black (because Cardan!!! ❤ )
I Was Born for This by Alice Oseman
House of Earth and Blood by Sarah J. Maas
The Starless Sea by Erin Morgenstern
9. What is your ideal novel?
I'm a sucker for enemies-to-lovers, found family, bandlife, music/dance and the YA/fantasy genre. So everything that will include at least one of those tropes or be in the genre will make me happy as long as it's done right. 😉 
10. What memory would you think of to cast a Patronus?
This is a really deep question and I thought long and hard about it. The strongest happy memory I have so far is the birth of my kid. Nothing. Really NOTHING beats that moment of happiness when you hold this little new life in your hands. (Well, the panic that hits right after when you're afraid you'll do something wrong is real too, but we won't talk about this now. Happy memories, right?! *lol*)
I Tag:
Of course you don't have to do the Award if you don't want to but I thought you might enjoy doing it! 😉
This Award was really interesting and I loved the questions! Very creative, unique and thought-provoking. 😉 Thank you so much for tagging me Brianna and Emma! As always it took me a while to get to it but I'm glad I finally went for it! Also I hope you enjoyed my answers! Some of those questions were actually kinda hard to answer. *lol* This said:
Take care and stay healthy and safe!
*hugs'n'kisses*
The Sassy Library Fox