TTT was created by The Broke and Bookish and moved to That Artsy Reader Girl (click here for upcoming TTT topics!).
Today's Topic is: Animals from Books (these could be mythical, real, main characters, sidekicks, companions/pets, shifters, etc.) (Submitted by Paige @paigesquared and Jennifer Y. @ Never Too Many to Read)
Okay, I think I'll go with creatures and animals here because some of the characters I came up with are actually no animals. *lol*
1.) Syrinx from "Crescent City" by Sarah J. Maas
Who wouldn't want to have their own chimera as a pet? I mean Syrinx is so damn adorable and I just wanted to cuddle him whenever he appeared in a scene. I can imagine sitting down on my sofa at night and stroking his fur. *lol* I bet this would be soothing af! XD And exactly what I'd need after a long day at work. Everyone should have a Syrinx!
2.) Buckbeak from "Harry Potter" by J.K. Rowling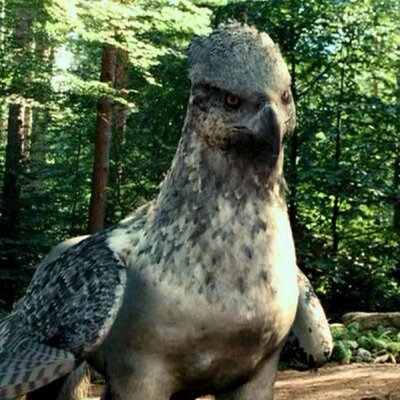 Buckbeak was one of the magical creatures I loved the most when I read Harry Potter! (The dragons in book four though!! *lol*) Hippogriffs are such intriguing creatures and I love that you can only ride them when they approve of you. Manners are everything and those creatures have them down to a T. Also those soft feathers! Ahh to fly on Buckbeak must be amazing!
3.) Abraxos from "Throne of Glass" by Sarah J. Maas
Abraxos is the best wyvern you will ever find! He has a heart of gold and even though he looks like a big bad dragon he loves flowers and is super soft! Seriously! I loved Abraxos so damn much! Manon was totally soft for him too and I lived and breathed for their friendship! ❤ I want an Abraxos as well! Where can I get one?! XD
4.) Nighteyes from "The Farseer Trilogy" by Robin Hobb
I always wanted to befriend a wolf and the bond between Fitz and Nighteyes is nothing but amazing! ❤ Nighteyes humour and sarcasm were everything and I really wish I would have a friend like him too! Fitz could always count on him and Nighteyes was the best companion anyone could wish for. Plus his playful side was totally amusing!
5.) The Whispering Skull from "Lockwood & Co" by Jonathan Stroud
Yes, I admit it: I'm a fan of the whispering skull! Haha! But how couldn't I be? That guy… erm… that skull is awesome! I had to laugh so hard whenever he made one of his sarcastic remarks and he really grew on me throughout the entire series! His love-hate relationship with Lucy was just great! *lol* And the moment when it was revealed who he was!!! Ahhh!! Not going to spoil here! Read the series and find out for yourself! ;-P
6.) Mr. Kindly from "The Nevernight Chronicles" by Jay Kristoff
Quite honestly the not-cat is probably one of the best things Jay Kristoff ever invented. *lol* Well, okay AIDEN IS the best thing he ever invented but Mr. Kindly definitely comes in second. XD Now that I write this I just realized that I seem to have a weakness for sarcastic characters because Mr. Kindly most definitely has that character trait as well. Haha! Loved his battle of words with Eclipse and Mia. They were highly entertaining and Mr. Kindly is one of a kind! Moreover he could swallow my fears and if that wouldn't come in handy then I don't know! ;-P
7.) Arion from "The Heroes of Olympus" by Rick Riordan
There are a lot of things that make Arion sort of special! For one he can run faster than the wind. His diet includes eating gold (which would be pretty expensive on the longrun, but I guess that's exactly the reason why he's sticking around Hazel) and he curses like a sailor! *LOL* What's not to love??!!! I really want a horse like Arion now! I couldn't afford to feed him though. XD
8.) The Suriel from "A Court of Thorns and Roses" by Sarah J. Maas
I ABSOLUTELY loved the Suriel! I know some people might thing that's crazy but the Suriel was legit one of the best characters in the ACOTAR series! It might have only been a side character and it might have looked creepy but it was amazing and had such a great personality! It was wise and kind of soft for Feyre and I lived for it! *lol* One of the most underrated side-characters ever! ❤
9.) Carver from "Deadmarsh Fey" by Melika Dannese Hick
It's been a while I read Melika's book but Carver that little devilish fiend is still on my mind! And just in case you wondered: Yes, Carver is the faerie in the back that touches the boy's shoulder! *lol* "Deadmarsh Fey" was one of the best faerie books I ever read because it didn't only hold to the legends and myths but also the atmosphere of the old house in the moor was just great! It had the right amount of spooky and Carver was such a nice villain! His biting banter with Roger was the best!
10.) Chainsaw from "The Raven Cycle" by Maggie Stiefvater
And last but not least: Chainsaw from TRC! Of course Chainsaw made it on my list because Chainsaw is no normal raven but also a very special creature. She's super intelligent and she can communicate with Ronan so that's pretty amazing! I want a Chainsaw too! (Also the name!!! Haha! I love that Ronan named her Chainsaw!)
So what about you? Did you read the same books and do you like any of the bookish pets, creatures and side characters I mentioned? What are your favourite bookish animals from books?
Talk to me and let me know!
And as always try to stay healthy and safe!
*hugs'n'kisses*
The Sassy Library Fox