Hey there, my lovelies!
I love waffles and my love for them is as old as my love for pancakes! *lol* I swear if I could, I'd eat them all the time. Unfortunately my mornings are always rather stressful and I don't have any time to eat breakfast during the week. (At five in the morning all I can stomach is coffee so I suppose it's my own fault for not eating anything solid until I'm at work.) >_< Still, when I'm on vacation I always make sure to eat breakfast and quite honestly that's the best part of my holidays. 😛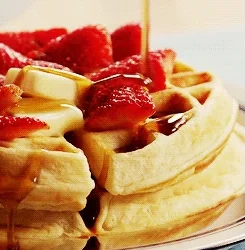 Anyway let's get back to that awesome waffle tag! A huge thanks goes to Miri @ The Book Dragoness for thinking of me and tagging me for this one! I love waffles and I'm pretty sure I'll get very hungry while doing this. XD *drools* So lets head from the "drools" right to the rules! 😉
Rules:
Link back to the original creator, Kat @ Novels & Waffles
Feel free to use any of the waffle graphics in this post, just make sure to credit me (pretty pretty please with lots of maple syrup on top)
Tag as many people as you want (or don't want) to. No pressure here, folks 🙂
You probably can't hear it anymore but I'll always go with "The Picture of Dorian Gray" here! *lol* I'll never get tired of mentioning how awesome this book is! XD You might say it's my first true love when it comes to classics and after reading it for about a hundred times, at least it feels like it, I always find some new aspect that makes me think about all the characters and their relationships. 😀 Highly recommended because Oscar knew his stuff! 😛
Red, White, and Royal Blue by Casey McQuiston! I can only agree with Miri here! This book gave me all the feels and it definitely was one of the best books I read in 2019. RWARB is everything I ever wanted and I wish our world would be as accepting as it was in here. This was such a wholesome story and it made me smile so much! ❤ Ahh and the ending, don't even get me started about that awesome ending! I didn't feel as content after reading a book for quite a while.
I'll just rephrase Miri's question here and ask: Is there anyone out there that didn't think of HP first? *lol* If there is one series that fills me with nostalgia, then it's Harry Potter! And haha quite honestly I feel really old when I see all those kids arguing about my fave characters. Sometimes it's really strange to belong to that first HP generation that actually grew up with the books. Especially when you're about 20 years older than the primary school kids that talk about it too. XD Okay, I feel old now. Ahh the nostalgia. 😛
Simon Spier! This boy is sooo damn sweet I can't even. ❤ He's just so precious and he needs to be protected at all costs! There aren't a lot of fictional characters like that out there but Simon is definitely one of them. If I'd have to think of another character that's as sweet as him the only other one that comes to mind would be Lazlo Strange. 😀
I'LL NEVER GET OVER THAT ENDING!!! GAHHHH!!! This book made me feel super blue! Like seriously! I should have known when I picked it up and read the blurb, but being the optimist that I am I thought it couldn't be that bad. Well, guess Adam Silvera proved me wrong. But then again what did I expect from an Adam Silvera book? I have yet to read one of his books that actually ends well. *lol* Oh boy, that would be a surprise. Haha!
That'd be Illuminae! I never read anything like it before and I certainly never read anything like it after I finished this series. Alone the format of the book is so very different to everything I ever read and boy was the plot amazing! This was clearly one of my reading highlights of 2019. Even though I've to admit that you actually DO get strange stares from people if you read it in public. *lol* Apparently they assume you're crazy when you read a book upside down. 😉
Pfff which one to choose? I read so many series I stuck with until the end. One of the longest is this one though and I'm still not at the ending. 😉 I've been reading the "Stephanie Plum Novels" for years but I never get tired of it. Every time I need a good laugh I just read the next book and even though I'm already at the 15th book I'm still not done with it. Last time I checked it had 26 books but I think a 27th will be out this year. So lots of books I have to read! XD
I could say bookmarks but if I'm entirely honest I don't need them. *lol* I mean I use them but I could easily remember the page on which I stopped reading. So when it comes down to it my favourite bookish accessory would be my small and colourful sticky notes. I need them to mark all those wonderful quotes and I'd be totally lost without them. The more amazing quotes the more sticky notes in my books. They actually look like a hedgehog sometimes. 😛
I tag:
And YOU if you like waffles as well! Just make sure to link back to me so I can read all your awesome waffle book tags! XD

This was a pretty cool tag! And yep, it made me hungry as hell! I need waffles with lots of maple syrup now so excuse me while I go and get some! 😛
*hugs'n'kisses*
The Sassy Library Fox